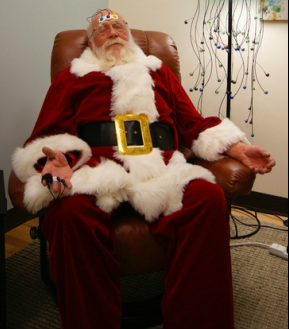 Even Santa, like so many of us in the Western world, can reach a point at which something has to give. For months on end, he works long hours, planning for a big event, laboring over endless details, managing a work crew, getting along with coworkers who often have an agenda of their own, feeding and caring for the little ones under his care, not to mention his four-legged friends. Work, limited time for sleep and play, along with trying to assume responsibility for the happiness of every person on the planet, can put anyone in fight/flight mode. It can become a habit, stuffing more and more responsibilities in your bag with the goal of delivering the goods. After all, if you don't do it, who will? And did I mention the thinking, fretting and worry that can accompany all this? It's enough to keep anyone awake at night.

Staying in this pattern for an extended period of time can take its toll on the body, mind and spirit. Grabbing a quick sugar fix or a caffeinated drink can keep you going for awhile, but eventually something's got to give. That's when your body starts talking to you. Headaches, body aches, muscle tension, high blood pressure, high cholesterol, cold hands, shallow breathing, tightness in the chest, insomnia, forgetfulness and more. And it's not just the body talking…there's also those endless thoughts swirling through your head. Feelings of irritability and resentment can creep in.

"I'll rest once this project is done", Santa says. New Year's Resolutions are made: Do less, take better care of myself, exercise more, lay off the cookies and caffeine, get some sleep…but then the next project demands attention and the chaos continues.

Santa's starting 2014 with some new tools under that big black belt, thanks to Mrs. Claus who gave him a six-pack during their holiday gift exchange. Not the pop the tab kind of six-pack. This special gift involves 6 sessions with Peg at the Biofeedback Wellness Studio. In fact, one of the first tools Santa will learn is to put his focus on that area around the beltline. A lesson in diaphragmatic breathing may seem like a little thing, but it can take you out of fight/flight mode and move you into a state of rest and recovery. Aah, the body is going to like this. And did I mention that it can serve to calm thought patterns and improve sleep as well?

Let's get real. It's a stressful world out there. We can lessen some of the stress by crossing a few things off our list, saying no, delegating, etc., but life can be chaotic at times. Slow effortless diaphragmatic breathing is the first step in learning to stay calm in the midst of chaos. Get a healthy start on your new year by learning one of Santa's new techniques. Begin by focusing on your belt line. Yep, the belly. Forget all those little voices in your head telling you to suck it in. Give it a try!

1. Inhale slowly to the count of 4 as you move your abdomen out.

2. Exhale slowly to the count of 6, allowing abdomen to come back in.

3. Breathe effortlessly. Not too deep.

4. Minimize chest motion.

5. While breathing, invite in a feeling of gratitude and appreciation.

For more information, attend a free seminar, "Stress and Aging: New Year's Resolutions for a Youthful You!" January 8th, 5:30-6:30pm and January 9th, 9:30-10:30am. Inside the Raintree Athletic Club, 2555 S. Shields Street, Fort Collins, CO.