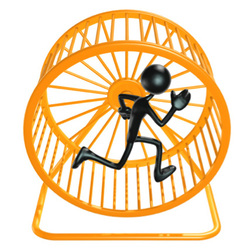 Moving through life at a pace you never thought possible? Feel like your stress response is always activated as you strive to stay afloat in today's fast-paced world?
Stress can take its toll on the body. This includes mental stress, such as all those thoughts racing through your mind like a hamster in a wheel. Worrisome thoughts about work, money, relationships, health and more; sometimes even keeping you awake at night.
If you want some reasons to get off the treadmill of life, or at least to slow it down, check out this link. You'll find a
New York Times
Health Guide
describing possible consequences associated with chronic stress.
http://www.nytimes.com/health/guides/symptoms/stress-and-anxiety/possible-complications.html
Too busy to take some down time? The overall goal of biofeedback is to incorporate the tools learned into everyday life situations. It is possible to relax and recharge as you go about your day. Here's a personal example. I recently gave a presentation entitled "Stuck on the Treadmill of Life? Self-Regulation using Biofeedback." Ten minutes before it was to begin, I realized I'd forgotten a necessary item in my car at the back of the parking lot. (Yes, parking far away from your destination creates opportunity for relaxation). A few years ago, I would have raced to my car, admonishing myself along the way for forgetting the item. My body would have been tense, my jaw set, my breathing pattern fast and high in my chest. My thoughts would have gone something like this: "You idiot, you knew you needed that….if you had been more prepared…you always do this…what if people arrive and you're not there to greet them…a fine biofeedback clinician you are…etc., etc." Instead, I chose to become mindful of my body, my thoughts and my surroundings. I walked at a steady pace, reminding myself to stand tall, let go of tension, and release my shoulders and jaw. I began breathing slowly, using my diaphragm. I noticed the negative self-talk and began to reverse it. I used my "go to" mantra to cue me to relax. "I am feeling calm. Letting go of all my stress." With this change in perspective, I became more mindful of the beauty surrounding me. The spectacular blue sky, decorated with soft, billowy cloud formations. Birds singing. The scent of newly mown grass. The sun on my chest and face. A breeze brushing my cheeks, whispering gentle words in my ears. "You have plenty of time…you needed this little break…you're all set up and those who arrive early likely need a little time anyway…it's awesome to have these few moments to walk, breathe and soak in this gorgeous day." I arrived back in plenty of time, grateful for having gotten off the treadmill for a few minutes.
Take a few moments today, perhaps even while you're downloading the link above, to find calm in the midst of chaos, and recharge your battery.
"One of the best actions we can take, with courage, is to relax." ~ quote from a Yogi teabag