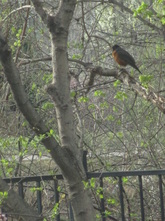 This is a longer post and contains a bit of science regarding the benefits of meditation.
If that's not for you, just trust me!
Then skip to the last two paragraphs for a link to sign up for Deepak Chopra's 21-day meditation challenge.
Spring.
When used as a verb, according to Merriam-webster.com, spring means to grow or to come into being.
To be resilient; released from confinement.
As a noun, spring implies the ability to return to one's original shape when pressed down, stretched or twisted. Compare this to Merriam-Webster's definition of stress:
"a force exerted when one body or body part presses on, pulls on, pushes against, or tends to compress or twist another body or body part."
Would you like to grow your resiliency?
To be released from confining conditions such as stress, anxiety, insomnia or other health issues?
Meditation
may be a solution to assist you to "come into being."
A Google search reveals references to numerous research studies regarding the benefits of ongoing meditation. MayoClinic.org discusses both the physical and emotional benefits, including stress management, increased self-awareness, and reduced negative emotions. The site states "
research suggests that meditation may help people manage symptoms of conditions such as anxiety disorders, asthma, cancer, depression, heart disease, high blood pressure, pain and sleep problems."
Research led by neuroscientist Sara Lazar at Harvard University shows the positive effects of meditation on cognition, brain physiology and aging. Grow your grey matter! Check out links to her Ted talk and publications at https://www.nmr.mgh.harvard.edu/~lazar/publications.html.
Elizabeth Hoge, MD, is a professor of psychiatry at Massachusetts General Hospital. Her research revealed longer telomere length in those who practice loving-kindness meditation. What are telomeres? Think of them as end caps on chromosomes. Telomeres tend to shorten as cells divide. This shortening is associated with aging, cancer and a higher risk of death (http://learn.genetics.utah.edu/content/chromosomes/telomeres). Shorter telomeres have been linked to chronic stress. Practicing meditation can reduce your stress response and maintain telomere length. Sounds like a great spring time activity for stretching and growing!
I invite you to join me in a 21-day meditation challenge offered by Deepak Chopra at the Chopra Center. It's already day 7 of the challenge, so sign up today. Go to chopra.com. Scroll midway down the home page where you'll find a photo of Deepak Chopra and Oprah. Yes, Oprah joins Chopra for this 21 day challenge. Click on "sign up here" and you'll receive a daily email with the meditation link.
"But I can't meditate!" you may be thinking. Here are my suggestions to help you get the most out of your meditation practice. Those of you with prior biofeedback training have an advantage, as hopefully, you are using these techniques already. Arrange yourself in whatever position is comfortable. Begin your slow, easy and effortless diaphragmatic breathing. Do a body scan, moving head to toe, or toe to head, noticing and releasing muscle tension. Use affirmations to discourage intrusive thoughts. Pull in a pleasant image or memory that brings up feelings of joy, appreciation or gratitude. Aah. "I can calm my body. I can calm my mind." Now, hit the start button and invite in the wisdom of your higher self as you continue to breathe, relax and be...