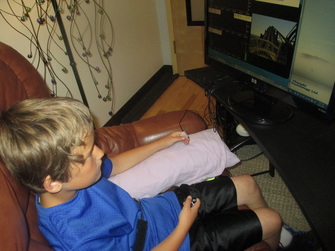 A school nurse colleague recently sent a link to an interesting article discussing the increasing incidence of anxiety in school aged children and teens.
http://www.northjersey.com/news/how-schools-are-trying-to-help-kids-cope-with-anxiety-1.1319281
The NewJersey.com article states "As many as one in four children and adolescents are affected by an anxiety disorder at one or more times over a lifetime, according to mental health experts." Untreated anxiety disorders can have a negative impact on both school performance and social experiences, and can increase the risk of substance abuse, according to the website for the Anxiety and Depression Association of America (adaa.org). There are various forms of therapy and medications to help our youth manage stress and anxiety. Biofeedback is another resource, allowing for increased awareness of the body/mind connection, with strategies and tools for self-regulation of emotions and the body's responses.
When a child describes a real life anxiety-producing situation while connected to biofeedback equipment, they are able to watch their body's response on the computer screen. In doing so, they can begin to identify how anxiety plays out in their body and mind. They begin to notice the chest-oriented, faster, shallow breathing pattern that often accompanies anxiety. Awareness of the breathing pattern, pounding heart, tense muscles, cold and/or sweaty hands, and negative self-talk, can be the first step in learning to manage these responses. Practicing slow, diaphragmatic breathing and other relaxation techniques, while watching the "feedback" on a monitor, allows them to see that they can be in charge of their body's responses. They become confident in their ability to self-soothe; consciously releasing muscle tension, warming hands, calming their breathing, heart rate and self-talk.
The long term goal is to transfer what is learned to day-to-day stressful situations. Between biofeedback sessions, kids are encouraged to hone these newly learned skills. I advise my clients to "Practice when you're calm, so you can call on it when you're not." Most kids are eager and quick to learn relaxation techniques.
Even without biofeedback equipment, there are other "feedback" methods. Preschool age children can practice diaphragmatic breathing by lying down with a stuffed animal, action figure or other object on their abdomen. They can use their "super powers" to move the object up and down, experimenting with giving it a fast ride, then a slow, and even slower ride. "Tummy going up" as they breathe in, and "Tummy going down" as they breathe out. Learning to accompany this breathing pattern with an affirming phrase or thought will help dispel automatic negative thoughts. For example, "I can calm my body" or "I am feeling calm" on the inhale. And "Letting go of stress" or "Letting go of mad" (or another emotion) on the exhale. Taking the role of "detective", they can practice scanning their body for tension and releasing it. Age appropriate imagery and visualizations can be introduced as another tool to create calm in both the body and mind.
Wouldn't it be great if these techniques were introduced in preschool and reviewed throughout the elementary and high school years? Tim Ryan, Ohio congressman, Jon Kabat-Zinn and others have made efforts to make this happen. If interested in more information, I've included several links at the bottom of this blog that discuss the benefits of mindfulness in education. And the best thing about this? If our children can do this, so can we! Maybe a peaceful planet is possible after all.
Feel free to pass this on to a parent or anyone you know who works closely with children. Encourage them to provide a certified biofeedback provider at BCIA.org. And as the school year draws to a close, let's applaud our dedicated teachers, school nurses and others in the education system who serve our youngsters on a daily basis. You are appreciated!
http://archive.businessjournaldaily.com/education/ryan-takes-%E2%80%98mindfulness%E2%80%99-inner-city-schools-2012-4-13
http://www.mindfulschools.org/home/jkz-benefit/