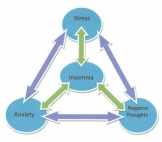 Now that's a conversation starter. We'll get to the bliss part later. Insomnia is a common reason for seeking biofeedback. Most of my clients with sleep issues have wisely consulted their health care provider to rule out or treat any medical conditions that might contribute to insomnia. In many cases, however, insomnia is due to learned thoughts and behaviors, both of which can be unlearned or changed.
Stress and insomnia often unite, launching a vicious cycle. Stress disrupts sleep. Disrupted sleep creates stress. Anxiety frequently enters the equation as well. Anxiety causes loss of sleep. Loss of sleep results in anxiety. The stress of not sleeping can create a fight/flight response, even when lying in your comfy bed. During the day, worry about lack of sleep triggers negative thoughts and emotions that further encourage the stress response. Daytime stress elicits a rise in stress hormones which may remain elevated during the night. As I mentioned, it's a vicious cycle.
Sleep control mechanisms in the brain consist of the "wakefulness system", which allows for daytime alertness, and the "sleep system", which promotes restful sleep. With biofeedback training, you can learn to weaken your wakefulness system and strengthen your sleep system. And no, this doesn't mean you'll be drowsy during the day, although you may feel calmer and manage stressful situations better.
Strengthening the sleep system and weakening the wakefulness system using biofeedback:
You'll be able to see what an "overly awake" response looks like in your body by seeing it on the computer monitor, so that you can practice taming it. With this, you'll gain awareness of what "overly awake" feels like in your body/mind, and also, what a truly relaxed state feels like. With this new awareness, you'll be able to catch these signals and manage them, both day and night.
You'll learn to detect and release muscle tension, scanning your body for tightness or bracing and "letting go". With this, you be able to create a sense of heaviness and warmth in the body that can result in the sensation of sinking more fully into the mattress below you. Don't worry, if you tend to feel too warm at night, you can learn to invite in a cooling sensation.

Slow, diaphragmatic breathing! We'll work to create a balance in the autonomic nervous system; reducing the fight/flight mechanism and eliciting the relaxation response. Scroll to the end of a previously posted blog for a "how-to" on slow, diaphragmatic breathing.

Catching negative self-talk and refuting it will be another goal. A steady stream of racing thoughts can wreak havoc on a good night's sleep. These often include self-defeating thoughts about sleep, some of which may be present during the day. It may seem implausible at this point, but you'll learn to use positive affirmations about sleeping well. For example, "I plan to sleep well tonight." "With the techniques I'm learning, it's becoming easier for me to get back to sleep." You may even discover that you can pair the statements with a pleasant "feeling state" about how good it feels to create a relaxation response in both body and mind.

Healthy and sleep-promoting lifestyle routines, habits and sleep hygiene will be explored, including caffeine and alcohol intake, light exposure, eating and activity patterns.

Mindfulness techniques will be practiced, enhancing your ability to induce a relaxation response.

Where does the bliss come in, you ask? Even though sleep is sure to come easier after biofeedback training, an occasional sleepless night is inevitable. You can learn to create a very pleasurable and relaxed state in body and mind, so that even if you lie awake for an hour during the night, you may experience it as a blissful state of being. This drowsy, peaceful state, when respiration slows, muscles relax, heart rate drops and pleasant images or thoughts reign, can be quite blissful. This state can be very restful and beneficial, even if deep sleep eludes you.
May sleep envelop you as a bed sheet floating gently down,
tickling your skin and removing every worry.
Reminding you to consider only this moment.
~Jeb Dickerson