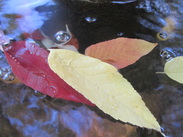 The force of nature is certainly trying to get our attention this time of year--shouting out her message in vivid colors! Begging for attention as a falling leaf flutters across your path. It's as if the changing of the seasons is her reminder to be mindful of areas in our lives that could benefit from change. And perhaps a more dramatic lesson is offered as the trees "let go" of their leaves. Or is it the leaves that are letting go?
I invite you to participate in nature's process of letting go. Be mindful of the trees and leaves, observing their patterns. Those that let go so easily, being the first to reach the ground. Those that fall fast and hard. Those that flutter and scamper across the path. Those that linger on the tree, soaking up the last glimmer of Indian Summer. Or are they simply displaying their stubbornness?
Is there something you'd like to let go of? Let each falling leaf serve as a reminder to release whatever is not serving your highest good. Consider both the body and the mind. I've listed some ideas, but you'll know what's right for you!
Letting Go in the Body
:
Muscle tension—shoulders, jaw, hands, muscles in the face, back, legs and feet.
Pain—give it permission to leave.

Fatigue—breathe energy into your body.

A long exhale with an audible sigh can signal the body to let go.

Letting Go in the Mind
:
Busy mind chatter

Negative thoughts and self-talk
Anger, resentment, unforgiveness

Worry, fear or other pent up emotions

Perfection and the need to please

Let go of one needless "to do"

The sense that there is "not enough time"

Confining beliefs

Having said this, perhaps there are situations where we need to let go of the need to let go! What about just accepting what is? Sitting with uncomfortable thoughts and emotion as you breathe and offer yourself some acceptance and compassion.
Some of my favorite meditations are those of Jon Kabat-Zinn. His CDs can be purchased online and I highly recommend them. Another of nature's lessons can be found within his Lake Meditation. He presents an image of a lake, noting that at times the surface is smooth and still. At other times, it is "disturbed, choppy and stirred up." Despite this unrest on the surface, there is stillness and life below.
He suggests that we "be the lake", being aware of uncomfortable thoughts and feelings and holding them with acceptance and compassion. He asks, "Isn't having a rippling and wavy surface part of being a lake?" Can you be still, breathe, and find the calm deep within your inner being, despite external circumstances?
Dr. Russ Curtis, PhD, LPC, has adapted Kabat-Zinn's lake meditation in his 4 ½ minute YouTube video. Be the lake!