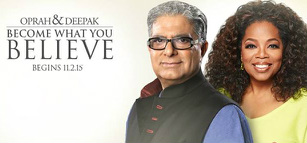 Oprah and Deepak Chopra team up once again, offering their free 21-day meditation challenge. The focus of this series is "Become What You Believe." It starts TODAY, Monday, November 2nd! Here's how it works. Click on the link below to register. Don't worry, its quick and easy. You'll receive a daily email with the meditation link so that you can listen when convenient for you. The meditations are typically less than 20 minutes in length.
Click here to register for Chopra's FREE meditation series.
How will you fit this opportunity into your day? Here are some possibilities:
In the morning before getting out of bed?
Taking a few moments to yourself after getting the kids off to school?
Leaving 20 minutes early for work, parking and meditating in your vehicle before entering your work place?
Incorporating meditation into your lunch hour? Perhaps with your co-workers?
Taking time to rejuvenate when you feel that mid-afternoon slump?
Before or after dinner; perhaps with other members of your family.
Meditation coupled with a luxurious soak in the tub.
Bedtime meditation to help you wind down at day's end.
And yes, I've even used it in the middle of the night to lull me back to sleep.
Here are some suggestions to help you get the most out of your meditation practice. Those of you with prior biofeedback training have an advantage, as hopefully, you are using these techniques already.
Arrange yourself in whatever position is comfortable.
Establish a slow, easy and effortless, diaphragmatic breathing pattern.
Do a body scan, moving head to toe, or toe to head, noticing and releasing muscle tension.
Use affirmations or your "go to" calming phrase to discourage intrusive thoughts.
Pull in a pleasant image or memory that brings up feelings of joy, appreciation or gratitude.
Start the meditation, allowing Chopra and your breath to guide you to a place of inner peace.
Per Chopra's website, this meditation series will invite you to "embrace your positive beliefs and step into your highest potential..." Since November is often associated with a time to take inventory of all you're grateful for, why not turn this meditation series into a gratitude practice. I wonder if you might come away from each meditation with something about yourself to be grateful for? What if you were to jot down that thought and place it where you might view it throughout your day. Let it remind you to talk kindly to yourself. To send a little self-compassion your way. I would venture to guess that in doing so, that attitude of compassion and gratitude will spread to others in your life.
Here's my personal example after experiencing the "Day 1" meditation. My gratitude list: "I am grateful for my inner strength." I am grateful for my sense of self-worth." I wrote "inner strength" and "self-worth" on a sticky note and placed it near my computer screen. I sent the following email TO MYSELF: "I admire your inner strength and resiliency. Take note to see the strength and worthiness in everyone you encounter today. I am grateful!"
Now this made me think of a Facebook post I saw a couple weeks ago. It stirred up a lot of controversy and that is not my intent. I'll share the link because I believe if we all did a bit of affirming "mirror work" each day we'd be better able to see our own self-worth.
Click here to check it out!