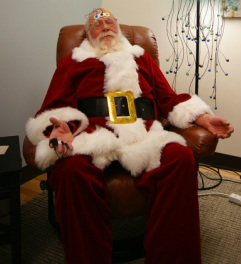 Here's a remake of my December 2013 blog post:
Even Santa, like so many of us in the Western world, can reach a point at which something has to give. For months on end, he works long hours, planning for a big event, laboring over endless details, managing a work crew, getting along with coworkers who often have an agenda of their own, feeding and caring for the little ones under his care, not to mention his four-legged friends. Work, limited time for sleep and play, along with trying to assume responsibility for the happiness of every person on the planet, can put anyone in fight/flight mode. It can become a habit, stuffing more and more responsibilities in your bag with the goal of delivering the goods. After all, if you don't do it, who will? And did I mention the thinking, fretting and worry that can accompany all this? It's enough to keep anyone awake at night.
Staying in this pattern for an extended period of time can take its toll on the body, mind and spirit. Grabbing a quick sugar fix or a caffeinated drink can keep you going for awhile, but eventually something's got to give. That's when your body starts talking to you. Headaches, body aches, muscle tension, high blood pressure, high cholesterol, tired adrenal glands and immune system, inflammation, cold hands, shallow breathing, tightness in the chest, insomnia, forgetfulness and more. And it's not just the body talking...there's also those endless thoughts swirling through your head. Feelings of irritability and resentment can creep in.
"I'll do it differently next year", Santa says, as he begins making a list...
New Year's Resolutions
Take time to quiet my body and mind.
Exercise regularly.
Take time to play (and pet the reindeer).
Eat and drink mindfully.
Cookies and caffeine in moderation.
Get more sleep.
Breathe lower and slower. Click here for diaphragmatic breathing instructions.
Find balance. Check out the website Mrs. Claus sent me for exploring balance. Read blog post below...