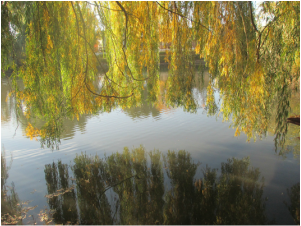 Would you agree that FALL is a huge attention getter? Dramatic changes all around. The gorgeous changing of the leaves followed by their release from the tree. A breeze that sends them dancing across the roadway. Sweaters, jackets, football, pumpkins and more.
Is Fall the Universe's way of telling us CHANGE is good? I've felt a challenge recently to make a change in the way I manage my STRESSORS and my STRESS RESPONSE. I feel I have a good knowledge base in the area and know the tools to use, yet I don't always take the time to implement these tools. Thus, I'm offering myself a CHALLENGE to CHANGE. Will you join me?
The Make a Change Challenge:
1) Identify one stressor in your life that is creating imbalance.
2) Examine the options: Can you change the stressor, or do you need to change your stress
response?
3) Make a change! What action or non-action will you take?
FIrst, let's look at Wikipedia to note the difference between a
stressor
and the
stress response
.
Stressor
: a chemical or biological agent, environmental condition, external stimulus or an event that causes stress to an organism. An event that triggers the stress response.
Stress Response
: an organisms's physiological or biological response to a stressor...the body's method of reacting to a challenge.
Dr. Paul Martin says it rather simply in his book,
The Healing Mind
. "The unpleasant or potentially harmful things happening in the environment are referred to as
stressors
, while the psychological and biological reactions they elicit are referred to as the
stress response.
"
Step 1: Identify one stressor that is creating imbalance in your life.
Journaling can be a great way to get clarity around what the stressor is and what it involves. Start scribbling and make a list of your stressors. Pick one you'd like to work on.
Step 2A: Examine the options. Can you change the stressor?
Some stressors can be deleted or altered. Here are some possibilities for change. Will one of these apply to your stressor?
Delete it! And Let Go!
Alter your perceptions around it by changing your self talk.
Set boundaries with yourself or others.
Say "No!" Or more gently, "That won't work for me."
Practice conflict resolution. Communicate.
Are you communicating your needs and wants?
Are you listening to and taking action regarding your own needs and wants?
Delegate!
Use your support system.
Time management, including incorporating time for you.
Go meditate or play! That stressor may seem less intimidating when you return.
A Saylor Academy website offers great strategies for avoiding, altering, adapting or accepting the stressor.
Click here.
Step 2B: Do you need to change your stress response?
You may want to take a quick assessment of the self-care essentials. The acronym
HALT
is a great tool. Most of us manage stress better when we avoid letting ourselves get too Hungry, Angry, Lonely and Tired. A healthy meal, walk, nap or time with a friend may be the answer.
Simply slowing your breathing pattern and focusing on a mantra or affirming phrase can calm the fight/flight/freeze/fret response and elicit the healing power of the relaxation response. Have you tried biofeedback?
I've listed other ideas below. You may also want to review my
October 2015 blog post
.
Letting Go in the Body:
Muscle tension-shoulders, jaw, hands, muscles in the face, back, legs and feet.
Pain-give it permission to leave.
Fatigue-breathe energy into your body.
A long exhale with an audible sigh can signal the body to let go.
Letting Go in the Mind
:
Busy mind chatter
Negative thoughts and self-talk
Anger, resentment, unforgiveness
Worry, fear or other pent up emotions
Perfection and the need to please
Let go of one needless "to do"
The sense that there is "not enough time"
Confining beliefs
Step 3: Make a change!
Set an intention for yourself. Write it down. Post it where you'll be reminded daily. Set an alert or timer on your phone.
You could start now by committing to the Chopra/Oprah 21-day meditation challenge. It starts tomorrow, October 31st! It's free! Do you have 20 minutes in your day to invest in YOU?
Register here.
When we are no longer able to change a situation,
we are challenged to change ourselves.
~Viktor Frankl